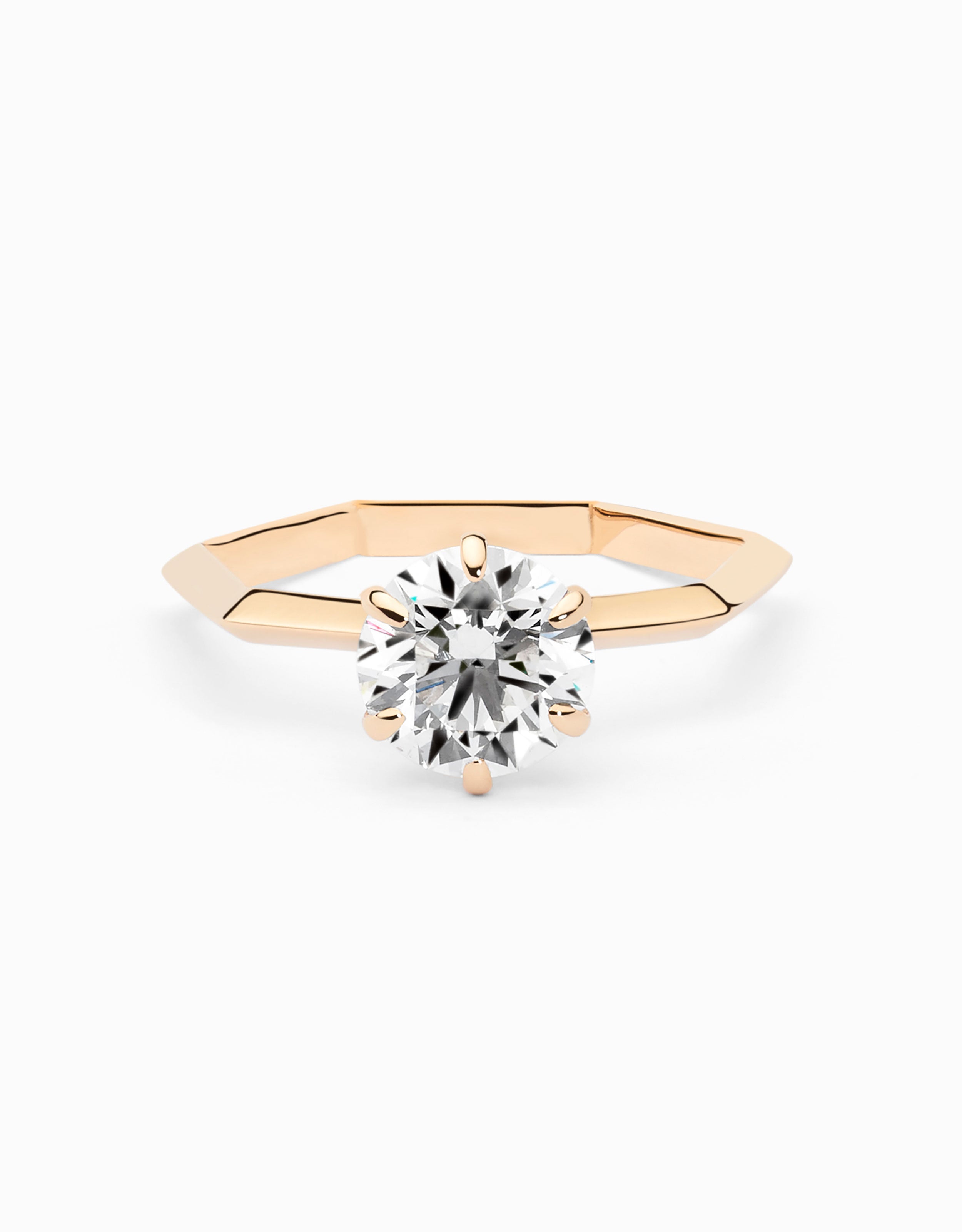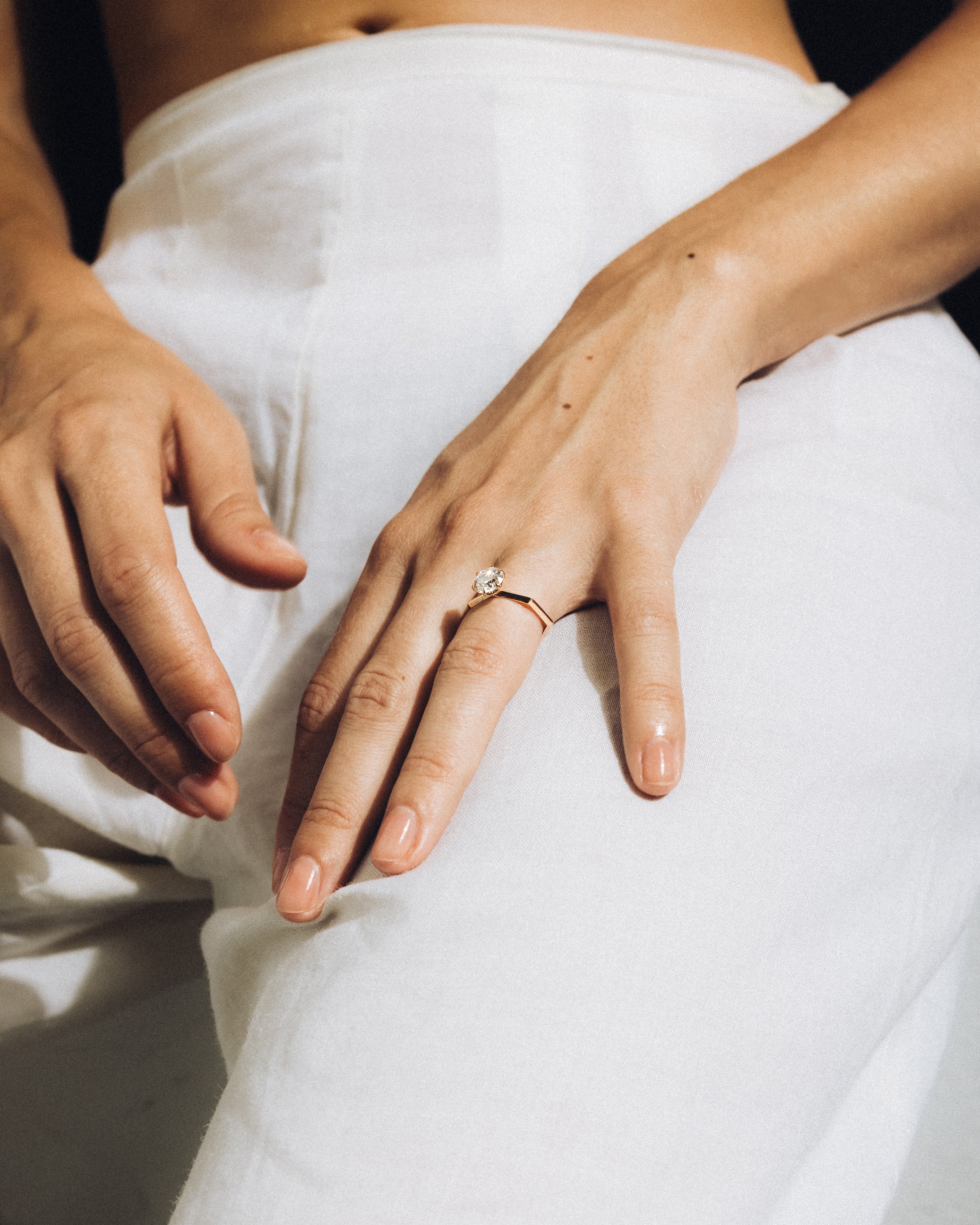 HeptaSolitaire Ring · 1.50CT Diamond
We work with 100% recycled precious metals.
Natural and ethical gemstones
We desing & make your jewellery
Details
ROSE GOLD HEPTAGONAL ENGAGEMENT RING
Handmade ring
18 ct rose gold
1 Natural diamond:

Brilliant cut
Total weight: 1.50ct
Certified by GIA
Color: E
Purity: VVS2
Triple excellence (cut, symmetry and polish)
Ref: Ref: A23.S1.150.OR
Description
More Roosik & Co than ever. A ring that questions all the impossible and breaks with the classism of conventional engagement rings. The geometric, minimalist lines of the heptagon-shaped ring elevate the triple-excellence diamond, almost making it float in your hand.
This is a piece of jewelry designed for that daring person, who is not afraid of anything, who is brave and innovative, who loves change, who knows what she wants... And who is at the same time romantic and dreamy.
Thanks to its heptagonal shape, this ring is very comfortable to wear as it fits your finger perfectly.
Sustainability and traceability
Our metals are 100% recycled, they come from " Team and Timing SL ", a company that melts and recovers precious metals, with the manager code E-346.97 and producer code P-14267-1, granted by the Generalitat de Catalunya. They supply us with 24k pure recycled gold - 999 gold - with which we create our own 18k gold or 950mm platinum alloy.
Our diamonds and precious stones are 100% natural , excellent in quality and of ethical and sustainable origin. Our commitment, and yours, has a beneficial economic impact on the countries of origin of the gems. If you choose a Roosik & Co jewel, you are actively helping the economic development of thousands of families in Namibia, South Africa and Botswana, and improving their living conditions.
Shipping & Refund policy
Shipping within Europe: Free shipping . Delivery time in most EU countries is usually between 3 and 5 days if the jewelry is in stock. read more a>
You have 15 days to change or return your jewelry. Just fill out the form >, wrap and protect the piece well and return it in perfect condition. It's very easy. more >
HeptaSolitaire Ring · 1.50CT Diamond
FREE SHIPPING
Your online purchases are free. You will receive it between 1 or 2 days if we have your piece ready in our workshop.
EASY RETURNS
No worries, there is no problem. You will have 15 days if you change your mind.
YOU & THE CREATIVE PROCESS
We will take pictures and videos while we are making your piece of jewellery.
Jordi Rosich
Founder and designer of Roosik & Co
Jordi has become the designer and jeweler of reference for those who, like him, value jewelry for being more than gold and precious stones. He has also received professional recognition for his career: the 2019 Talent Award by Girona City Council and the Best Trade Award 2019 by JORGC, the Official Association of Jewelers, Goldsmiths, Watchmakers and Gemmologists of Catalonia .
Packaging
Your jewel
When you receive your jewel you will see that everything is designed with great care and detail for you: The boxes where we present it to you are made in Barcelona, ​​with recycled and recyclable materials ... Without plastic! We attach the certificate of authenticity of diamonds or gems, where you can check their quality, origin and characteristics. You will also receive cards that accredit the piece is unique and is handmade in our workshop in Girona. Finally, if you wish, we will wrap it with beautiful natural fabrics and flowers to surprise your loved one right from the start.